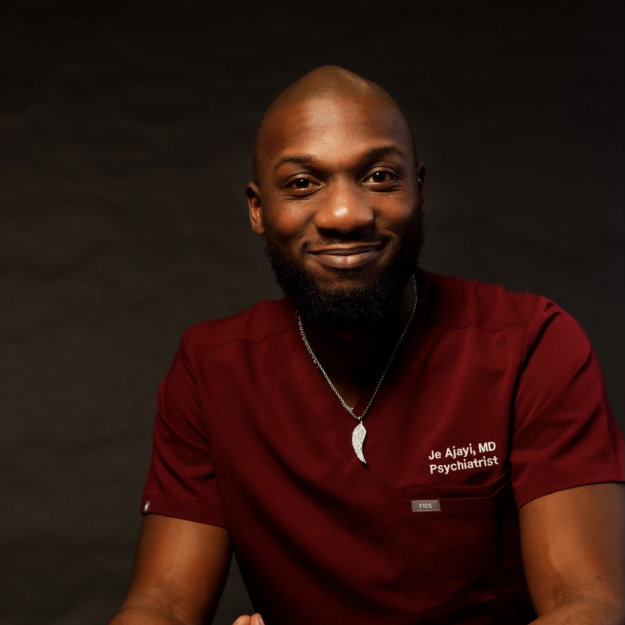 Je Ajayi, MD
Founder, Medical Director
Dr. Je Ajayi is a Board-Certified Psychiatrist and Diplomate of the American Board of Psychiatry and Neurology. He is licensed to practice in Georgia (License #82241), New York (License #306636), and California (License #A172602).
Dr. Ajayi graduated Magna Cum Laude from the University of Georgia where he earned his bachelor's degree in Biology and master's degree in Science Education. He went on to complete his medical degree at the Medical College of Wisconsin in Milwaukee, Wisconsin. He returned to Georgia and completed his residency training at the Morehouse School of Medicine. During his training, he served as a medical student lecturer in psychiatric diagnosis and treatment and conducted research on a range of medical topics spanning from basic to clinical research. He currently provides tele consult-liaison and emergency room services to a large hospital network in the Atlanta area, emergency room services to a large state hospital in the Atlanta area, and outpatient medication management for several clinics in the states where he holds licensure.
Dr. Ajayi founded Connected Minds in 2019 with the goal of providing quality, high value, and easily accessible care to patients ranging from high-profile to the most in need. With this goal in mind, Connected Minds upholds a caring, convenient, culturally informed, and collaborative approach to care. Our mission is to connect with the most intimate parts of our clients, develop a holistic understanding of their concerns, and work alongside them to provide appropriate care.
Dr. Ajayi is a first-generation Nigerian-American. He was born in Albany, Georgia where he attended grade school and has participated in mission trips providing free medical services to West Africa. In his downtime, he enjoys listening to music, participating in charity events, connecting with others on a deeper level, and finding creative ways to inspire other minorities to pursue careers in the field of mental health.